Publication Vakblad Voedingsindustrie
Sea Fresh Retail: Emphasis on Hygiene and Sustainability
More certainty, less disinfectant
Those who supply to retail must have their business in excellent order: sustainability certifications, the ability to deliver quickly, and perfect hygiene. Sea Fresh Retail meets all these criteria with flying colours.
In Urk, they prefer to err on the side of caution regarding hygiene. This mindset at Sea Fresh Retail has led to the use of extra amounts of disinfectant. Meindert de Vries, a quality service employee, explains: "Previously, we went through one twenty-liter jerrycan of disinfectant every four weeks, much more than required. This was not only unnecessarily expensive but also left too much residue. Employees sometimes had to deal with white spots on their hands. Not necessarily harmful, but not healthy either. Employee well-being is important here. For instance, we get half of our sports subscription reimbursed. However, safe working conditions on the floor are essential."
Preventing Recalls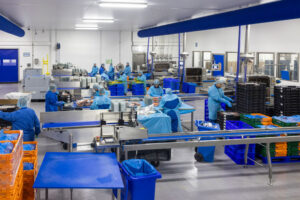 The mantra 'better too much disinfection than too little' is understandable. Total disinfection is crucial in fish processing. The risk of listeria contamination may not be high, but if harmful bacteria appear, they multiply quickly, and the potential consequences are severe. At Sea Fresh Retail, much effort goes into maintaining a hygienic environment. Meindert shares, "We supply about twenty-five million packaged fish items annually to retailers in the Netherlands and surrounding countries. With such volumes, you don't want to risk a recall. Salmon and shrimp are the leaders, but we also process cod, pike-perch, yellowfin tuna, and shellfish. The fish is filleted, portioned, weighed, and packaged here."
New Requirements
Sea Fresh was founded in 1999 by the Ras brothers. Initially focusing on North Sea fish sales to wholesalers, the retail branch was added in 2010. This expansion was good for business but brought new requirements. Meindert notes, "Retailers set high sustainability standards. Without an ASC or MSC label, fish won't make it to the shelves. Almost all our fish is certified." But at Sea Fresh, they believe that certifications alone won't save the ocean. Hence, the company started a project in the Philippines in 2011 in close cooperation with WWF, training and educating fishermen and producers. The goal was MSC certification for handline-caught yellowfin tuna. The project was successfully completed in 2021.
Proof of Competence
Besides sustainability, there are other challenges in collaborating with retailers, such as controlling the freshness of incoming fish, maintaining proper temperature, and rapid delivery. Fortunately, Sea Fresh Retail passes these tests of competence with ease: the company grows by about ten percent annually. Growth means expansion, literally. Since 2010, the company has been renovated four times, mostly to create more space, though the latest renovation focused on automation and robotization. The disinfection process also needed to be upgraded. Meindert's manager decided to switch from a manually filled foam machine to a nozzle system from Veugen Technology.
The machine in the attic automatically doses the disinfectant, distributing it through pipes to nozzle devices in six workspaces. Once a week, on Saturday night, these spaces are fogged with a hydrogen peroxide-based disinfectant. The machine is connected to the alarm system. "Once we set the alarm, we don't have to worry about it," Meindert says. The system works perfectly, with no residue found anywhere. "With Veugen Technology's Halofog system, we've found the ideal balance between disinfection and proper dosing. Now a jerrycan lasts eight to ten weeks, saving at least half." Has there ever been an issue with disinfection? Meindert recalls a test with dipslides showing results within the margin, but poorer than usual. It turned out the alarm hadn't been set a few times. "So, the system itself is not at fault."
www.seafreshretail.nl
www.veugentech.com
www.vakbladvoedingsindustrie.nl
by Janneke Vermeulen | photos: ©Koos Groenewold