Halofogs in a rose nursery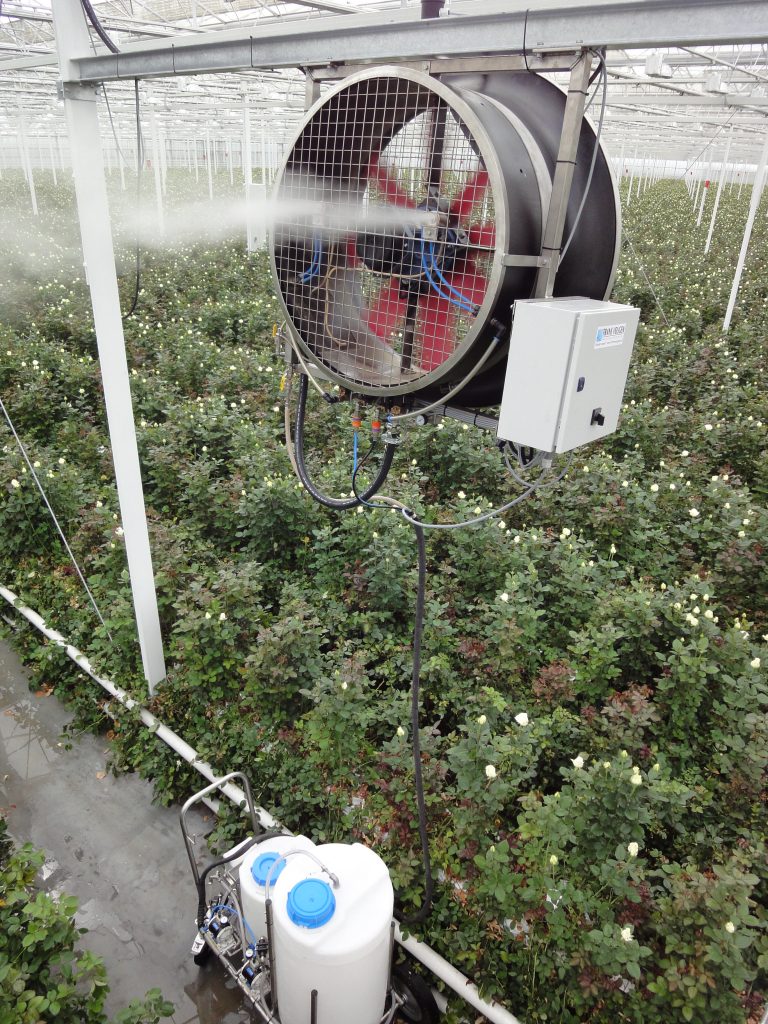 Case
A large producer of roses in the Netherlands was looking for a complete system to easily keep his roses safe from disease like mildew and pests like spider mite. This is why he asked us to design a crop protection system that is highly automated.
The system we've built consists of 7 Halofogs. Each Halofog has an air throw of 150 meters. With all 7 Halofogs positioned cleverly, the entirety of the 10 hectare greenhouse can be fogged proportionally. The foggers are all fixed in position, mounted to the trusses of the roof. Beneath each fan is a liquid tank cart, which is connected to the fan via a wire harness. A new compressed air pipeline has been fitted to the roof to power each fan.
A computer controls all foggers from a central location. Fogging cycles are scheduled from this computer, which are executed automatically.
This is how you make crop protection possible on a large scale and with zero man-hours. Are you also looking for a custom-tailored solution? Please contact us for free of charge consultation.
The rose nursery also uses 2 Heawats. These machines are used to clean water piping without the use of chemicals, powered by compressed air and water pulses. More information about the Heawat can be found here.
Company profile
Roses nursery
The Netherlands
10 hectares of greenhouse
Foggers
7 Halofogs
2 Heawats
More information?
Halofog
"We use the Halofog for crop protection on cucumbers. We don't have a regular schedule of use but rather use it on demand. The fogger is very easy for utilisation and we would definitely recommend it to other growers. We haven't run into any problem yet." After purchasing their Halofog in 2016, Serres Toundra expanded with a second Halofog in 2020.
Eric Dube
Serres Toundra, St. Felicien, Canada (Greenhouse cucumbers)