Disclaimer for European potato farmers
At this moment there are three permitted sprout inhibitors in the EU because of the ban on CIPC agents. These agents are 1.4Sight, Biox-M and Argos. In comparison to CIPC-containing products, we advise NOT to use the current sprout inhibitors with Pulsfog equipment. This advice is based on the increased risks of ignition when using these agents. This can lead the machine to burn out, or in worst case scenarios, may burn down the whole potato storage. The automatic liquid cut-off is not sufficient to guarantee a safe situation. To fog the new generation of sprout inhibitors 1.4Sight, Biox-M and Argos, we advise the Synofog. This fogger is designed specifically for fogging sprout inhibitors in the potato sector, and works well with all permitted sprout inhibitors. Want to know more about the Synofog? click here.
The main reason to choose for a Pulsfog is power and speed. The ratio between cost and size on the one side, and capacity and power on the other side is unmatched. The foggers of the Pulsfog series are not bound to cables or tubes and can therefore be used on, and from any location. The Pulsfog K22 is often used for disinfecting spaces and crop protection. They're also very useful in the poultry industry. It's compact size makes it useful in many different spaces, even if the walkways are too narrow for other foggers. With its air throw of 50 meters it's most suitable for companies with medium size areas.
available models
Pulsfog K22/ST
Pulsfog K22/10/ST
Pulsfog K22/10/0
This machine is most frequently used in:
Media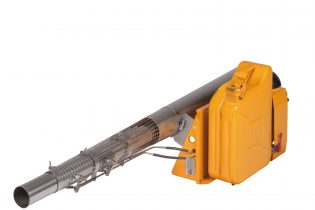 Enlarge photo