Pulsfog K10
The Pulsfog K10 is suited for fogging disinfectants, mosquitoes and other pests, and crop protection. But the most popular application for the Pulsfog K10 is fogging sprout inhibitors in potato storages. Its compact size means it can be used in many areas. Optionally, the Pulsfog K10 can be equipped with a flame head for removing insect eggs in deep crevices.
Available models:
Pulsfog K10/ST

The standard model. For water-based agents.

Pulsfog K10/0

This model has the agent piping further to the back, so oil-based agents can be fogged without fire hazard.
This machine is most frequently used in:
Media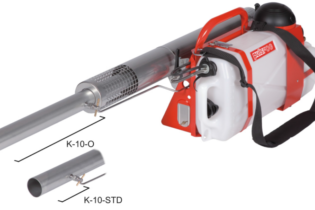 Enlarge photo